vibro-tactile or pure
The Fingertracking device is an add-on to the ART tracking system, which allows you to track the orientation of the hand and the position of the fingers.
ART's Fingertracking has the world's highest fingertip accuracy of all variations of glove technology. It is wireless, works for one as well as for both hands (4 hands with 2 users) and is available in two versions:
5finger pure optical
3finger with tactile feedback
 

ART's Fingertracking convinces
LEDs on fingertip - unique feature of ART's Fingertracking
haptic feedback - as option
numerous third-party software supported
Vibro-tactile Fingertracking2 in industrial applications
ART's vibro-tactile Fingertracking allows the integration of the hands of 1-2 persons acting in virtual simulations, with a millimeter accuracy of the finger movement. Also, additional objects (e.g., steering wheel, dashboard, rearview mirror) can be determined and animated with the same accuracy. The vibro-tactile feedback enables the user to feel the vibration at his/her fingertips when touching objects in the virtual world. The system can be used for ergonomics analysis, maintenance simulations, buildability analysis and other applications that require the interaction of a hand with objects in the virtual space.
FINGERTRACKING2
Compatibility with high frame rates of ARTTRACK5
Various sizes for finger thimbles
Active hand target for affixing to the back of the hand. Synchronization is provided with a modulated flash and the low voltage power is provided with a rechargeable battery.
The active finger markers consist of IR LEDs with diffusing sphere, a fixture for the finger tip and flexible wires. They are time-sequentially addressed and controlled by the active hand target unit.
Support in Siemens PS, DeltaGen, EON ICube 8, IC.IDO, IPSI Server, TechViz, Unity, Unreal, Virtalis, VR Concept

Additional Features for FINGERTRACKING2 TACTILE
Haptic feedback in three fingers
Intensity of the vibration can be controlled

The output data consists of
Position and orientation of the back of the hand
Number of tracked fingers as well as a distinguishing value for right and left hands,
Position and orientation of the outermost phalanx, given in the hand coordinate system - Together with a radius, the position and orientation of the finger tip can be estimated.
Angles between the single phalanxes as well as their lengths - These values are estimated using tracked markers and empirical data.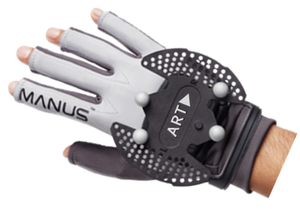 Prime II ART gloves combine Manus fingertracking with ART tracking
A new interface allows the combination of Manus fingertracking gloves with ART tracking systems. The Prime II ART gloves are upgradable with haptic feedback.They will allow ART users to have no occlusion challenges with finger tracking.
Furthermore: Via the new interface you can also use ART targets in Manus Motion Capture software.

Have a look at the extended possibilities and see how you can use MANUS finger tracking inside of your ART environment: Watch video: https://youtu.be/Br66ZB6ngVg
Our Fingertracking2 Tactile with haptic feedback
Technical data